Physically, Mentally Wounded Vets & Active Duty Personnel Thrive in Program
What exactly constitutes a disability?
"A lot of programs focus on combat wounded, but we don't take that stance," said Jen French, co-founder of the Warrior Sailing Program. "It could be a veteran who is a cancer survivor or blind due to a reaction from a vaccine or diabetes."
Military veterans and active duty personnel who have been diagnosed with a disability are welcome to participate in the Warrior Sailing Program, an Annapolis Yacht Club-sponsored Basic Training Camp taking place over three days from October 17-19, 2017, in the shadow of the U.S. Naval Academy in Annapolis.
Among the approximate 250 participants in the Warrior Sailing Program, about 75 percent suffer from post-traumatic stress disorder (PTSD) or some type of brain injury, according to French. Participants range in age from 19 to 80, and French said she hopes to bring 21 program participants — seven teams each consisting of three sailors — to Annapolis for the sailing instruction and on-the-water Poker Run sailboat race.
"We're not just taking them for boat rides," French said. "We're teaching them the sport of sailing. By and large, they've never been on a sailboat before. A lot (of the participants) are getting comfortable in their own skin while out on the water."
Though the on-the-water portion of the weekend is run by the WSP team, AYC's Race Committee runs the Poker Run, which wraps up the three-day program before the farewell dinner at the Clubhouse.
"AYC greatly enjoyed our experience during the inaugural year of hosting the event at the Club," said Linda Ambrose, AYC Regatta Manager. "Warrior Sailing has an incredibly well-organized group of staff members and volunteers who manage event logistics with support from AYC members and staff, so the Sailing Committee welcomed their request to return to Annapolis in 2017."
Warrior Sailing, a program of the USMMA Sailing Foundation, stresses teamwork, self-reliance, and having fun on the water. And while the program highlights skills for participants to manage a boat on the water, another area that is stressed is societal skills, which may translate to personal and job skill development.
There is no charge for program participants. All adapted equipment, expert coaches, and logistical support is provided by Warrior Sailing. The Basic Training Camp includes classroom and practical learning — including skills and safety — aboard J/22s. "Sailing isn't just all racing," French said. "We try to open up their eyes to all aspects of the sport."
Graduates from the Basic Training Camp will learn about local sailing opportunities and those in their hometowns. Select graduates will have unique opportunities to train for offshore passages or learn racing skills to compete in open and disabled racing events both across the country and around the world.
Locally, the Warrior Sailing Program is supported by AYC Foundation, S/V Happy Together, Mission BBQ, Buddy's Crabs & Ribs, Capriotti's Annapolis, Watermark Cruises, and Eastport Yacht Club. Annapolis Yacht Club will host the closing ceremonies the final evening of the event.
"Annapolis Yacht Club is proud to welcome back the Warrior Sailing Program for three days of on-the-water team- and confidence building," said Ward Anderson, AYC Event Chair for Warrior Sailing Program. "The Annapolis community is fully supporting our veterans to help with ongoing medical issues."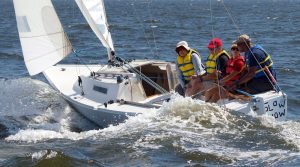 About Warrior Sailing
Warrior Sailing is an official program of the USMMA Sailing Foundation, a well-established, non-profit organization. The program provides maritime education and outreach for wounded, ill, and injured service members and veterans. We do so by facilitating opportunities for skill development and building partnerships between the military and marine communities. Using sailing as a platform, Warrior Sailing positively impacts the participant's physical and mental health while reconnecting them with the camaraderie and teamwork previously found in military service. Programming is achieved through partnerships and collaborations within the sailing community, military programs, and affiliates, with funding from generous supporters.
About Annapolis Yacht Club
AYC was founded in 1886 as an informal canoe club. Today, the Club's mission is to encourage and support a wide range of boating activities and to maintain facilities for the recreational and social use of its 2,000 members. Annapolis Yacht Club is a full-service, year-round, premier private yacht club that provides high-quality programs for its members, including sailboat racing, cruising for sailors and power boaters, a vigorous junior sailing program, fun and educational winter activities, social events, and first-class dining and banquet facilities. Visit annapolisyc.com to learn more about the Club.