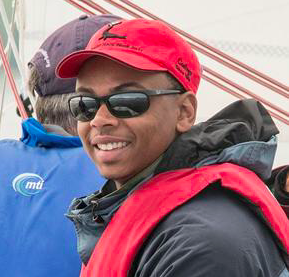 You guessed it, he is an Air Force vet. Born and raised in Beaverton, Oregon, Trent grew up around airplanes and loved everything to do with them. When it came to figuring out what to do after high school, the Air Force was an easy decision for him. What wasn't so easy was figuring out what jobs he could sign up to do. His last option was for Military Police. He got his assignment; he was slated to be an MP. Off to boot camp and training at Lackland AFB then he went to Germany and finally ended up at Travis Air Force base. Here he was diagnosed with post-traumatic stress and had to retire from the military at a young age.
Trent returned home feeling isolated but found refuge in the Air Force Wounded Warrior Adaptive Sports Program. He played basketball and seated volleyball. Coordinator, Kari Miller, suggested that Trent give sailing a try and directed him to the Warrior Sailing Program. In November 2015, he flew from his hometown in Oregon to Florida to take part in the Basic Training Camp held at the St. Petersburg Sailing Center. With Ed Norton as his coach, Trent was hooked. He later graduated from our first Advanced Training Camp in Newport, Rhode Island in 2016.
With our new Beyond Our Camps program, Trent was part of the crew aboard Robert Stein's J111, Kinetic, during the 2017 Charleston Race Week.Trent recently joined Warrior Sailing Advanced Training Camp in Newport 2017 to earn an ASA keelboat certification. Now, he is part of the worldwide network and we hope to see him on the water even more
What is next for Trent? He is now moving from Oregon to Daytona, Florida and has enrolled in Embry-Riddle University. He will be studying Aeronautics with his sights toward completing his Bachelor degree. In his spare time, he will be representing the U.S. Air Force at the Invictus Games in rowing, volleyball, cycling and track & field. On the side, he also plays the trumpet and even performed at the Monterey Jazz Festival. With certification in hand, a member of the worldwide network of ASA and in our Beyond Our Camps program, we hope to see Trent on the water!