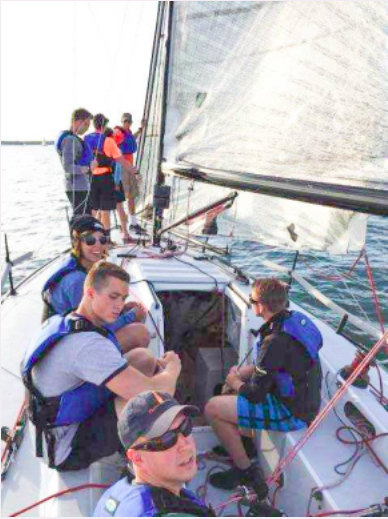 Welcoming the class of 2021, Indoctrination Day took place on June 27 at the U.S. Merchant Marine Academy. Approximately 281 candidates participated in the ceremony on Kings Point.
Over the next 21 days, the new class of cadets will get close and personal with all there is at the Academy. The regimen is designed to transform recent high school graduates into future licensed maritime officers and future leaders in the industry. There is no waste of time with the 3-weeks of training including academic, military and physical training.
USMMA Sailing Foundation boats were used for some of the training exercises. After some training in the fleet of Sonars at the Yocum Sailing Center, the trainees took two Soverel 33s, SABOTAGE and RENEGADE for some team building at the EBYRA (Eastchester Bay Yacht Racing Association) Wednesday Night Racing Series.
There might just be a few new racers in this class!
Check out other programs that we support through your generous donations.