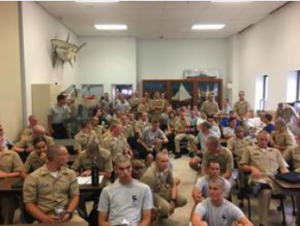 We've got boats for you! The Kings Point U.S. Merchant Marine Academy has been the fortunate beneficiaries of the Sailing Foundation's four newly-gifted boats this year.
The sailing vessel HIGH NOON, donated by Steve and Heidi Benjamin, along with power vessels VERITAS donated by Paul Verrochi, GERRY O donated by Bruce and Susan Wnuk and CLOVERLEAF donated by David Feiges. These boats and others at the Academy are training platforms.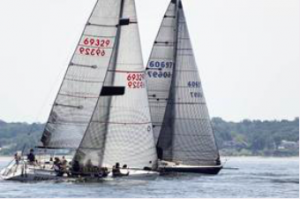 The Dinghy Team utilized the Foundation Sonars for Match Race training as well as racing at Manhasset Bay YC. Recognizing that starting on smaller keelboats gives new sailors a better understanding of sailing, the Offshore Team used the Sonars to train the new team members during the month of August, including weekend racing at Manhasset Bay YC and Manhasset Bay Race Week.
The team has had great success with the two Soverel 33s, RENEGADE and SABOTAGE, racing at the Soverel 33 National Championship and winning other regattas. PHANTOM and BANDERA raced in the Around Long Island Regatta, where PHANTOM beat two boats from the U.S. Naval Academy to win the Service Academy Trophy. Most recently, two midshipmen (Brendan Wright '18and Ethan Neubelt '18) had a fantastic opportunity to race aboard the Volvo Open 70 WARRIOR in the Ida Lewis Distance Ra ce.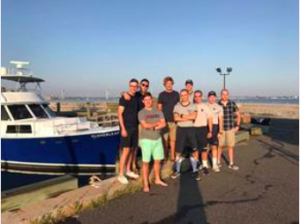 The Power Squadron made great use of their fleet of Foundation boats: CLOVERLEAF, GERRY O., VERITAS, DORADO and BB-44. Daily training trips focused on boat-handling, navigation and watch-standing. Weekend trips were made to Northport, Port Jefferson, Greenport and offshore for some great tuna fishing in the Atlantic Ocean.
Going strong the Power Squadron had 45 midshipmen underway on over 40 days. Indoctrination brought a slew of new interest, with 75 plebes showing up for the initial informational meeting. Plans for the fall include trips to Mystic, CT and Greenport, as well as a new program to take faculty and staff of the academy out for evening trips to showcase our waterfront midshipmen, and their skills.
Check out waterfront programs that we support through your generous donations.