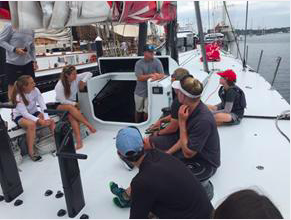 Warrior, the modified Volvo 70 (formerly Camper), has been up in New England for a series of events this summer.
She landed in Newport, RI where she faced downright nasty conditions for the 13th edition of the Ida Lewis Distance Race, starting on August 18. With multiple squall lines, driving rain and gusts over 40 knots, only 23 of the 40 boats finished the race. First to finish was none other than Warrior, co-skippered by Stephen Murray, Sr. and Stephen Murray, Jr. of Metairie, Louisiana. Finishing at 12:41 a.m. on Saturday,Warrior not only took line honors but also topped the IRC Class, which started with ten boats and finished with seven.
Warrior doesn't sit on the hard for very long. She was back in the water for the J Class World Championship from August 21-26. She was sailing around the harbor with the quintessential end of summer New England weather.
From Newport, she moved on to Stamford, CT for the Vineyard Cup 2017 an annual event in the Northeast attracting a record number of participants this year. Not holding back, Warrior broke the 10 year standing record finishing in 17 hours and 42 minutes; which was previously held by 'Blue Yankee' recorded in 2007.
Warrior has not only been a great training platform for Team Vestas 11th Hour Racing, but she has also been a used as an educational tool for youth sailing too.
Keep updated on where she is going next on the USMMA Facebook page.