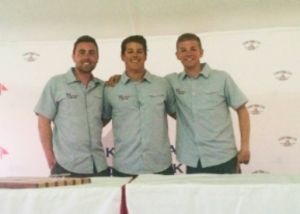 This Tripp 41 is one busy boat in our fleet for maritime education in a fun way. She is being used by Kings Point cadets for various races.
This summer she was at the 27th Storm Trysail Block Island Race Week in June 18-23. In this 5-day event with over 100 boats, her team finished mid-fleet in their division but had a great learning experience. They will have plenty of stories to tell about their starts, mark rounding, and equipment functions during the event on Long Island Sound. Aboard the team were Midshipmen Ken Weber '19, Nick Becker '20 and Ben White, '19.
Next up is the Around Long Island Regatta starting on July 24. This 205 nautical mile race tests a variety of skills with ocean, harbor and sound racing in the waters around Long Island.